Justin Timberlake Does Awesome Barbershop Quartet Version Of SexyBack! [VIDEO]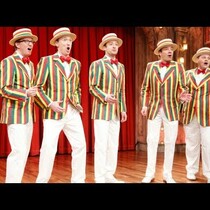 Posted March 13th, 2013 @ 3:56pm
Is there anything Justin Timberlake can't do? i mean, really...
Justin appeared on Late Night With Jimmy Fallon for an unforgettable remake of one of his smashes...check out the vid:
Pure talent. It's frankly disgusting.
How does a pair of FREE tickets to check out JT and Jay-Z in Miami sound?!? Pretty good, huh? Click HERE to get registered!
Make sure to listen all weekend for your chance to win The 20/20 Experience before you can buy it, along with a pair of Justin Timberlake FLZ Sunglasses.