LOOK: Does Your Dog Love You Enough To Make THESE Noises?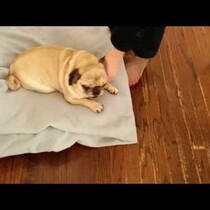 Posted March 12th, 2014 @ 4:29pm
This pug is absolutely ADORABLE!!
According to the owner, because he is deaf, he doesn't know the noises he is making. But when he gets excited, this is how he "barks":
Soooooo stinkin' cute, but umm...
Did I hear a possible 'Red Rum' in there??