DJ Jaime Ferreira aka Dirty Elbows
Watch: NBA All Star Gets Schooled by Kid On The Court.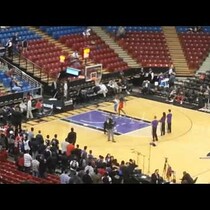 Posted February 27th, 2014 @ 2:30pm
During warm ups at a recent NBA game, Houston Rockets star Dwight Howard was playing around with a little child. After a few steals and blocked shots by the hovering all-star, check out the lesson the kid gives Howard...