DJ Jaime Ferreira aka Dirty Elbows
Watch: Snow Swimming... Stupid To Do, Fun To Watch.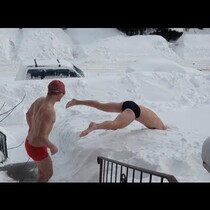 Posted March 3rd, 2014 @ 2:15pm
And here is your stupid human trick for Monday. These two gents decided they wanted to try out snow swimming. I don't think they realized that snow is cold. Especially when you're wearing a Speedo.