Interpol Get Chased Through Mexico City in 'The Rover' Video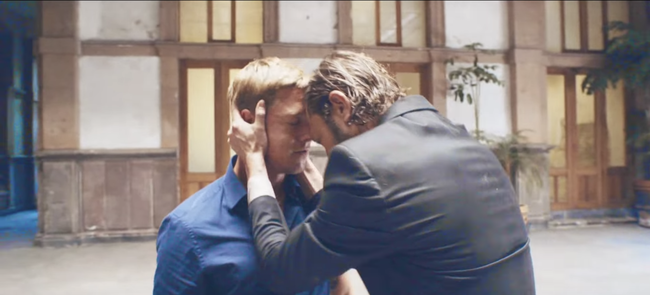 On Wednesday (July 11), Interpol revealed the video for their latest single, "The Rover." The visuals were shot in Mexico City while the band was doing a press conference to announce its upcoming album, Marauder. Directed by Gerardo Naranjo (Narcos, The Bridge), the cinematic clip follows the band and Ebon Moss-Bachrach (Girls, The Punisher) as they embark on a whirlwind journey through Mexico's capital.
During the video, Moss-Bachrach interrupts the band's press conference and presses his head against singer Paul Banks', causing confusion in real-time. Now, that mystery's been solved.
"I like to describe the video for 'The Rover' as a prequel. It's the origin story of the character described in the song, the birth of a cult leader," Banks describes in a statement about the video. "When we meet him he is partly unhinged. He's a man on the verge, an artist subjected to great pressures, and beset with existential frustrations. A distracted hipster who enjoys psychedelics, let's say."
"The events that take place in Mexico City, be it a bump on the head, a visit to a shaman, or the influence of his rescuers (the street gang known as 'Los Locos') trigger the birth – the eruption – of this new figure, 'The Rover.' His rescuers become his first followers," he continues.
"In the end of the video he exacts his 'revenge' on Interpol with a mischievous act of disruption during the press conference. He grabs me by the head – to save me? Forgive me? Or simply as a gesture of his new independence – the butterfly becoming."
Watch the video below.