Logic & Ryan Tedder Reunite Families During 2018 VMA Performance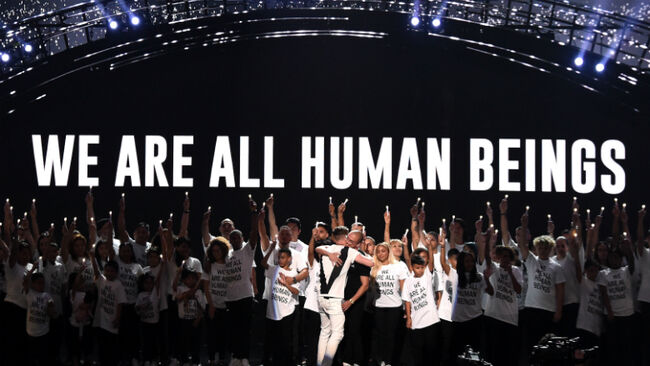 We're not crying, you're crying.
Logic delivered another moving performance at the MTV Video Music Awards on Monday (August 20). For the second year in a row, the "Everyday" rapper used the VMA stage to shed light on an important issue impacting the world today. Alongside OneRepublic frontman Ryan Tedder, Logic addressed immigrant family separations at the U.S. border while performing his new single "One Day."
For the immigration-themed set, Logic, and Ryan brought out dozens of families affected by President Trump's border policies. The performance began with Logic walking out with children wearing "We Are All Human Beings" t-shirts while he wore a shirt that read "F*** The Wall." Midway through the set, a screen rose, reuniting the children with their families, a touching moment no doubt meant as a call to action. The families on stage were made up of immigrant leaders from United We Dream, the National Domestic Workers Alliance, and Make the Road New York, and their children.
Logic and Ryan's emotional VMA performance came just days after the release of their music video for "One Day," which was also filled with political commentary.
Ahead of the release of the powerful video, Logic described it as "very important" and added, "I'm incredibly proud of it." He later wrote on Twitter, "I'm so excited to release this single, we do the boombap s***, we do the trap s***. But this one is for everyone out their with dreams and goals!! Making music is fun, but music with a message is so more important!!! This one is for anyone with a dream!!"
At last year's show, Logic delivered a moving performance of his single, "1-800-273-8255," with guest collaborators Alessia Cara and Khalid. The rapper brought the audience to tears as he brought awareness to mental health, racial inequality, and a number of other issues.
"I'm going to fight for your equality because I feel like we are all born equal, but we are not treated equal and that's why we must fight," he told the audience. "We must fight for the equality of every man, woman or child regardless of race, religion, color or sexual orientation!"