Liam Payne's debut solo single "Strip That Down" is finally here! Fans have been waiting for the song, which features Migos rapper Quavo, to drop since he began teasing it on social media -- especially since Liam is the last of his former One Direction bandmates to release solo music. But at long last, it has finally arrived.

"Strip That Down" is Liam's very first solo release, and is the lead single from his forthcoming debut solo album. The song was co-written by Liam, Ed Sheeran, and Steve Mac (who penned Ed's chart-topping hit "Shape of You" from his Divide album).
Liam tells iHeartRadio exclusively of his new single, "It just sets a few things straight, but then also the chorus is more about stripping back the music. I like to hear it loud sometimes, but sometimes you got to strip it back." He adds of working with Ed and Steve on the song, "I was super cool. Getting to work with artists that ... you couldn't really get luckier."
Quavo, who Liam describes the "hottest rapper around" at the moment as well as "brilliant," came into the mix after being played the song, and sending his rap verse back within 24 hours.
"I was thinking, like rapper time, it was going to take two or three weeks, "Liam explains of working with Quavo. "But, we got it, played it straight away, and we were like, 'We absolutely love it.' He's a great man to have on the team."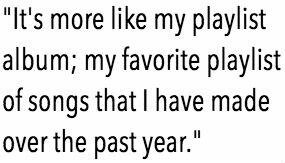 Now that we have our first taste of solo music from Liam with "Strip That Down," we're wondering what the rest of his forthcoming solo album will be like, and what other music he's been working on. What can we expect?
Liam tells us that "Strip That Down" doesn't set the stage for the rest of the record, that the songs will be diverse, and describes the album as his "playlist album." He says:
"I would say this single doesn't lay out the sound for the album. It's very eclectic. It's more like my playlist album; my favorite playlist of songs that I have made over the past year. So, some slow jams, there's a couple of dance songs on there, with some R&B stuff. So there's a lot -- it's a lot of different stuff."